Christmas Headbands are a festive accessory that adds a touch of cheer to any holiday outfit. From sequin Santa hats to glittery wreaths, there are many dazzling designs. Adults can opt for classy velvet headbands with holly leaves or pearl-embellished wreaths. Light-up reindeer antlers and poinsettia flower crowns also make merry statements. So be bold this Christmas season and decorate your head in holiday style with a spectacular Christmas headband that will spread smiles. These festive hair accessories allow adults to unleash their playful side and fully embrace the magic of the holidays. Here are some good ideas for Christmas Headbands for Adults.
Sequin Santa Hat Christmas Headbands
The most eye-catching Christmas accessory will sit atop your head when you don an exuberant Sequin Santa Hat Headband. This headband is blanketed in vibrant red sequins that dazzle and gleam to add holiday sparkle. Nestled on the side is a fluffy white faux fur Santa hat, trimmed with snowy white sequins to match the shimmering headband seamlessly.

The sequins catch and reflect the light with every turn of your head, demanding attention most festively. Transitioning smoothly from day to night, this headband ensures you shine at holiday parties, and it makes a perfect accessory for Christmas card photos. So be Santa's stylish helper this season and spread Christmas cheer all around town by donning this creatively designed sequin and faux fur headband.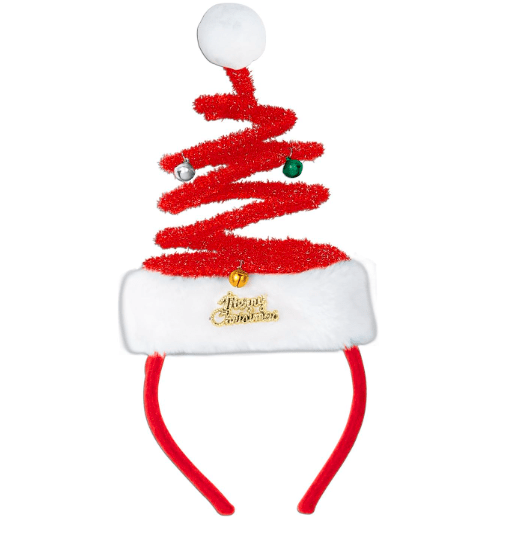 Light-Up Reindeer Antlers
Illuminate your holiday style by slipping on a playful pair of light-up reindeer antlers. Constructed of plush felt, these antlers contour perfectly to your head for a comfortable fit. Flip the tiny switch to cast a bright glow across the antlers' intricate branching design. The soft white lights radiate in the dark, creating a magical ambiance for everything from Christmas card photos to late-night tree trimming. Let your personality shine bright by donning these creatively designed antlers that will spread smiles all season long. You can unleash your inner reindeer spirit with just the click of a button.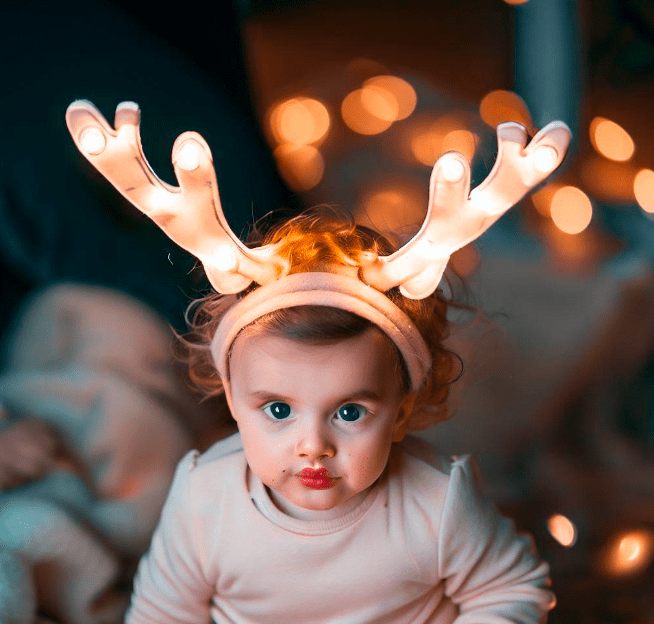 Glittering Snowflake Head Wrap
Adorn your head in a wintry glittering snowflake head wrap that emanates seasonal charm. Chunky, cozy knit fabric shapes this headband with undeniable texture and style. Shimmering snowflake cutouts are affixed throughout, catching the light from every angle. As you turn your head, glittering sparks will dance off the glistening snowflakes. The silvery tones blend seamlessly with every winter outfit, adding sophistication. From holiday parties to braving blizzard conditions in style, this creatively designed head wrap keeps your head warm while elevating any look. Let these magical glittering snowflakes crown you in frosted beauty this Christmas.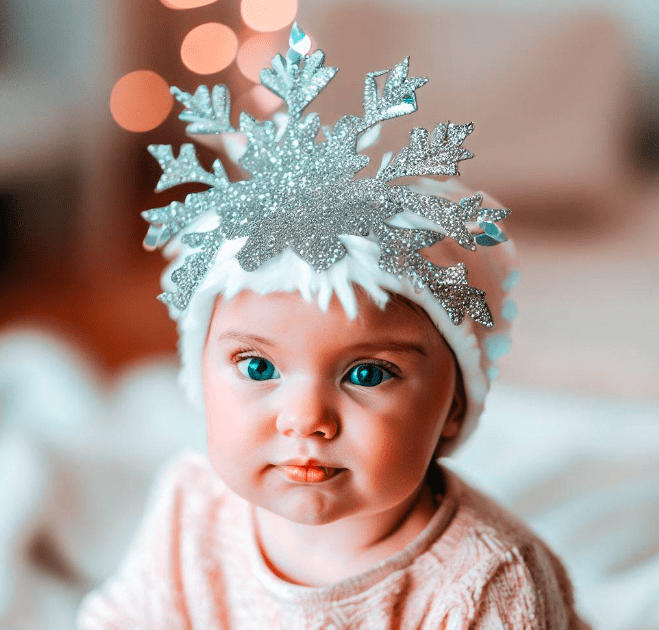 Velvet Holly Headband
Adorn your holiday hairstyle with a luxe velvet holly headband that emanates festive elegance. Lush green holly leaves crafted from velvety fabric pop against the rich royal blue headband. Sparkling red berries are sprinkled throughout, catching the light with their brilliant sheen. The sumptuous velvet fabric lies softly against your head while making a tasteful statement. Transitioning flawlessly from day to night, this sophisticated headband accents your outfit with timeless holiday beauty. Let this creatively designed velvet and rhinestone accessory crown your head in refined Christmas charm.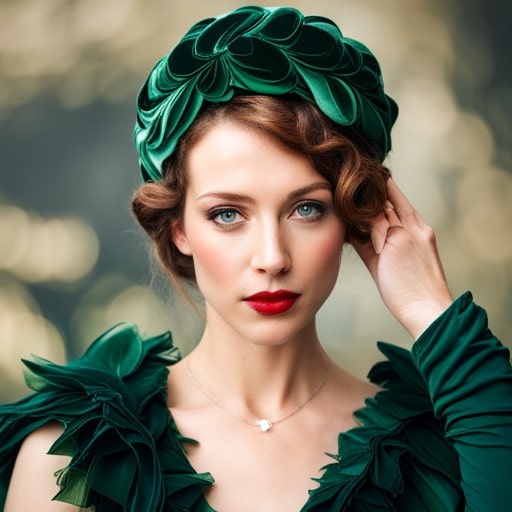 Rhinestone Candy Cane Headband
Delight your inner child while unleashing your playful side by accessorizing with a dazzling rhinestone candy cane headband. Rows of brilliant ruby red crystals and snowy white stones alternate to mimic delectable peppermint candy canes. The vibrant red and white striped satin pops against the shimmering jewels. With each turn of your head, twinkling light will dance off the stunning crystals. This whimsical yet refined headband is guaranteed to sweeten your look. Let your personality shine brighter than the rhinestones by topping off your holiday style with this creatively designed, candy-inspired accessory.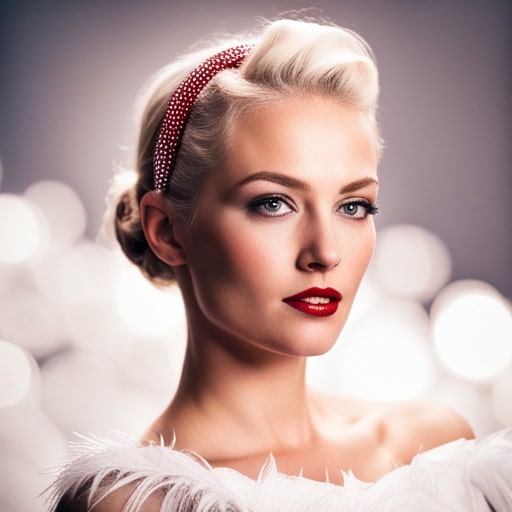 Gold Foil Wreath Headband
Elevate your holiday style by crowning your head with a glamorous gold foil wreath Christmas headbands. Metallic gold foil is expertly shaped into a graceful botanical wreath design accented with tiny pearl berries. The lustrous faux floral wreath lies elegantly across your head, adding instant sophistication. As light catches the glimmering gold hue, your wreath crown will shine with regal brilliance. Transitioning flawlessly from day to night, this elegant headpiece is fit for a Christmas queen. Let this creatively designed accessory deck your head in opulent holiday beauty.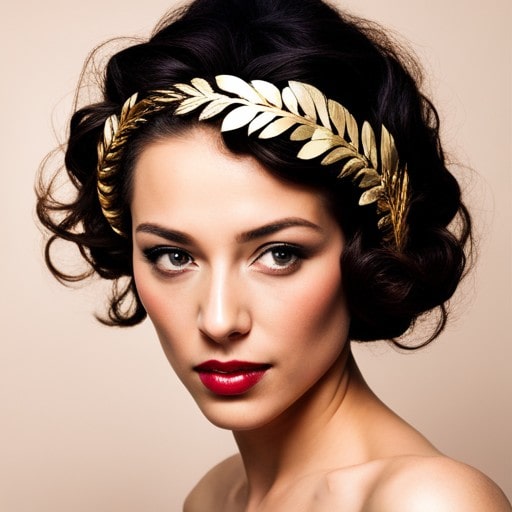 Fur Poinsettia Flower Headband
Unleash your inner winter goddess by gracing your head with a stunning fur poinsettia flower headband. Vibrant crimson faux fur forms a bold oversized poinsettia bloom that perches atop a black velvet headband. The dramatic flower contrasts elegantly against the dark background. With texture galore from the ultra-plush faux fur petals, this headband makes a lavish statement. Bask in the flattery of rich hues and fabrics by embellishing your holiday hairstyle with this creatively designed floral accent. Let your inner vixen shine by making this poinsettia your Christmas crown.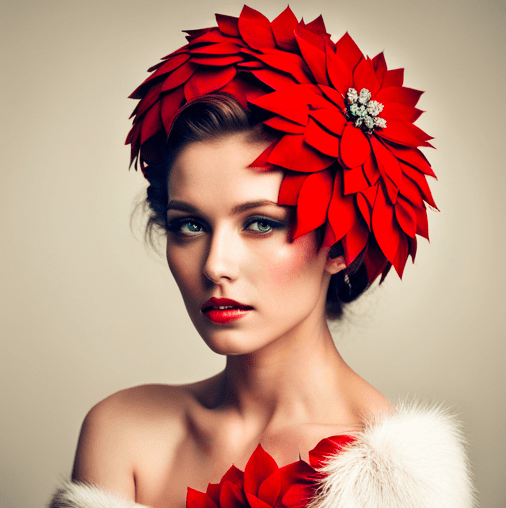 Buffalo Plaid Ear Warmer Headband
Stay toasty with a cozy buffalo plaid ear warmer headband topping your holiday look. Bold black and red buffalo plaid fleece fabric shapes this chic head accessory. The soft, insulating fleece wraps your head in winter-ready comfort and warmth. With each turn, you'll glean classic holiday charm from the iconic plaid pattern. This creatively designed ear warmer transitions from slaying winter chores to snuggling by the fire.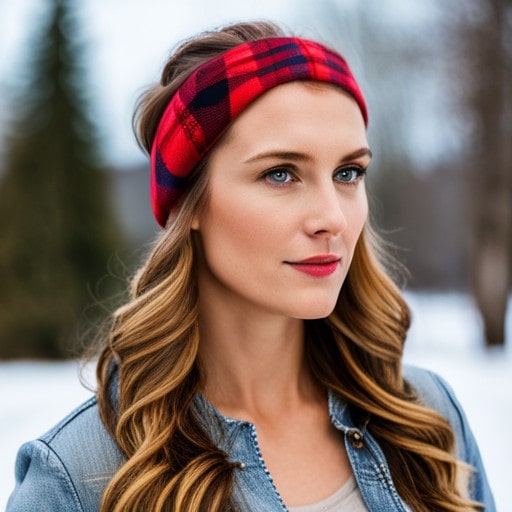 Metallic Christmas Tree Headband
Unleash your inner holiday diva by topping your look with a fabulous metallic Christmas tree headband. Shimmering silver tinsel is expertly shaped into a miniature Christmas tree silhouette atop a glittering gold headband. Strands of silver cascade down, mimicking tinsel garland on a gorgeously decorated tree. The dazzling metals gleam as you move, emanating maximum holiday sparkle. Let this creatively designed tree topper crown your head in the perfect amount of Christmas glitz and glam.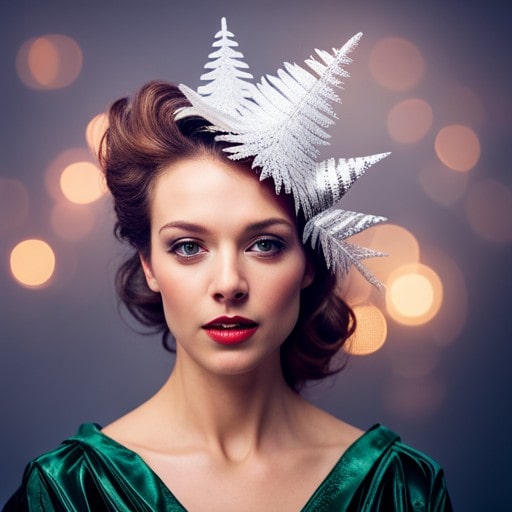 Glittery Poinsettia Flower Crown
Reign over the holidays in a breathtaking glittery poinsettia flower crown headband. Brilliant red poinsettia flowers with golden glittery centers bloom across this regal floral crown. Green glittery leaves intertwine with the stunning poinsettia blooms for added botanical beauty. This dazzling flower crown casts a magical aura over your entire look. Transition seamlessly from Christmas parties to holiday galas crowned in this creatively designed floral headpiece.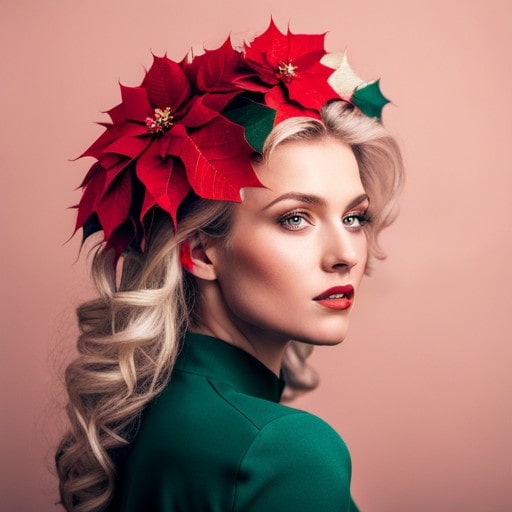 Conclusion
Christmas headbands allow adults and children to embrace the playful spirit of the holidays entirely. With styles ranging from elegant to whimsical, sparkly to understated, there is a headband to match every personality and holiday outfit. Don a dazzling reindeer, Santa hat, or wreath headband to spread extra cheer this season. Or opt for a sophisticated velvet and jewel embellished piece to complement your elegant attire. Whether you choose festive feathers, glittering snowflakes, or a shimmering tartan plaid, a Christmas headband tops off any look with a merry dose of holiday charm. So unleash your inner elf this Christmas and spread the magical joy of the season by adorning yourself in a spectacular headband guaranteed to make spirits bright.